This time, we'll look at the biggest competitor for McKinsey: The Boston Consulting Group (BCG). Next week, we'll take an in-depth look at the recruiting and BCG case interviewing process, which differs from region to region. For example, some use an analytical test as the McKinsey PST, other offices focus only on case interviews and some add a one-hour 'experience interview' in the first rounds to make sure you fit with office culture.
But today as a general introduction and guidance for the one or two resume questions you get at the beginning of each case: the history of the Boston Consulting Group.
A New Perspective
Founded in 1963 by Bruce Henderson (ex-Arthur D. Little) as part of the Boston Safe Deposit and Trust Company, with Henderson as sole consultant, the management consulting firm that would later be known as the Boston Consulting Group directly started challenging business literature status quo. These regular essays called 'Perspectives' would form the platform from which BCG would launch its famous business concepts.
The Experience Curve
The first of these concepts developed by Henderson was inspired by work in the semiconductor industry in an attempt to understand the quick price drops. Experience producing a product allows a firm to lower production costs as cumulative volume ('experience') increases. It affirmed the importance of increasing market share and production scale, as it allows you to reap cost benefits.
Dogs, Question Marks, Stars and Cash Cows
Only two years later another famous concept would find its way into the 'Perspectives': the Growth-Share Matrix, or just the BCG-matrix. Allowing firms to categorize their product portfolio into categories and rationalize their cash flows: invest money from cash cows into stars and question marks, divest dogs. It resurfaced during the 80's when it was used to categorize firms in investment portfolios to identify opportunities and divest divisions or companies with negative cash flows.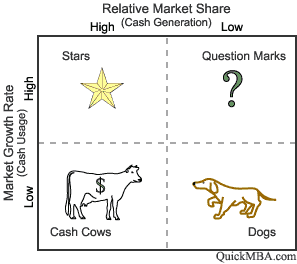 From Bill Bain Until Now
In 1973, Bill Bain leaves BCG to start up his own Boston consulting firm: Bain & Company. Meanwhile, BCG continues to grow and expand internationally. The Boston Consulting Group maintains its reputation as a research-driven and status-quo challenging company, being the first to identify the network-structure and the resource based view of the firm. Now 4,400 consultants strong, it's the second largest firm (McKinsey still has about twice as much consultants at 9,000) in the strategic consulting industry and still growing.
During the interview
When interviewing with BCG, know that they have always been innovators and still love to challenge the status quo in economic theory and business practice. If you can show that you've been innovative in your PhD-research or other area's of your life, do so! Also, know their five pillars and try to match your ambitions with one or more of these: show that you're prepared and passionate about working for BCG. Acing the cases and knowing your math is only part of the interview, the soft part is equally important!
Want to know how to communicate passion and enthusiasm without looking like  a clown? Buy my book! Also applying at other firms? Check out the Company Profiles. And as always, good luck with your interviews!
BCG: From 1 Phone Line to 4,400 Consultants in 50 Years

,